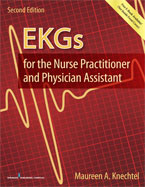 Author: Maureen Knechtel, MPAS, PA-C
Affiliation:
Publisher: Springer Publishing Company
Publication Date: 2017
ISBN 10: 0826168884
ISBN 13: 9780826168887
eISBN: 9780826168894
Edition: 2nd

Description:
Delivering succinct, clear explanations to help students easily grasp key concepts, this book provides a comprehensive, multifaceted approach to EKG interpretation for nurse practitioner and physician assistant students, as well as practicing clinicians who need a quick refresher. The second edition retains the book's systematic, physiologic approach that trains readers to follow the same steps in evaluating each EKG. It negates the need for rote memorization by facilitating a genuine understanding of EKG interpretation. Using the patient's presenting symptoms as a starting point, abundant clinical scenarios demonstrate real-life applications for interpreting EKG readings. With scores of figures and tables and more than 160 EKG tracings, this resource delivers everything physician assistants and nurse practitioners need to provide expert, quality care to their patients.
Related Titles