Fast Facts for the Radiology Nurse
An Orientation and Nursing Care Guide in a Nutshell
This title has been archived.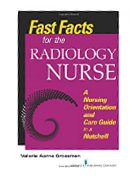 Author: Valerie Grossman, MALS, BSN, RN
Affiliation:
Publisher: Springer Publishing Company
Publication Date: 2014
ISBN 10: 0826129366
ISBN 13: 9780826129369
eISBN: 9780826129376
Edition: 1st

Description:
This portable guide to radiology nursing provides comprehensive information about this emerging specialty in a concise format designed for speedy information retrieval. Written for both practicing nurses and new orientees, it outlines general procedures and protocols, along with requisite information for patient care in specialized areas of radiology. It discusses care for all patient populations including morbidly obese, pediatric, geriatric, and oncology and addresses vascular access, infection control, teamwork, and sterile technique in the radiology setting. The book encompasses over 50 different IR procedures, and also describes emergency situations in radiology and how to respond to them. With an emphasis on inter-professional care, the book demystifies complex procedures and includes clinical "pearls" from seasoned experts in radiology nursing. The book's "Fast Facts" format features consistently organized chapters, bulleted information "at a glance," an introduction, objectives, and summary in each chapter, and case studies to reinforce radiological interventions. The guide will be a welcome addition to the arsenal of radiology, emergency, and clinical care nurses as well as new orientees.
Related Titles