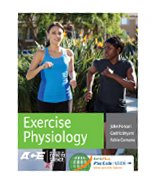 Author: John Porcari, PhD, RCEP, MAACVPR, FACSM, Cedric Bryant, PhD, FACSM, Fabio Comana, MA, MS
Affiliation:
Publisher: F.A. Davis Company
Publication Date: 2015
ISBN 10: 0803625553
ISBN 13: 9780803625556
eISBN: 9780803640979
Edition: 1st

Description:
Learn how to apply the science of exercise physiology to your exercise programs and to solve the problems you'll encounter every day in practice. You'll explore the principles of movement on which exercise is based, while you develop the confidence you need to create individualized exercise programs based on current lifestyles, schedules, and abilities, and properly progress those fitness programs through the stages of the ACE IFT training model. Access your complete text online with the Davis Digital Version. Redeem the Plus Code, inside new, printed texts, to access this DavisPlus Premium resource.
Related Titles