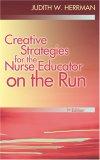 Table of Contents Available
This title has been archived.
Author: Judith Herrman, PhD, RN
Affiliation: University of Delaware, Newark
Publisher: F.A. Davis Company
Publication Date: 2008
ISBN 10: 0803614322
ISBN 13: 9780803614321
Edition: 1st
Description:
Step in front of your desk and actively engage your students in learning with the techniques you'll find in this handy, quick reference. Here are practical, relevant, and easy-to-implement teaching strategies that will help you to be more creative in the classroom. The author offers techniques gathered over many years from the nursing education literature and from her own experience.