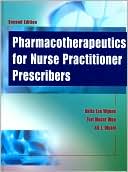 Table of Contents Available
This title has been archived.
Author: Anita Wynne, PhD, FNP-C, Teri Woo, RN, MS, CPNP, Ali Olyaei, PharmD, BCPS
Affiliation: University of Portland, OR
Publisher: F.A. Davis Company
Publication Date: 2007
ISBN 10: 080361361X
ISBN 13: 9780803613614
Edition: 2nd
Description:
Now in its second edition, this popular text continues to be the essential resource for the in-depth information that nurse practitioners need to be safe and effective prescribers of medication. The authors focus on applying pharmacologic scientific knowledge to clinical practice by explaining diagnostic and treatment reasoning and rational drug selection, while providing useful clinical pearls from experienced practitioners. Included are: increased coverage of pathophysiology; new chapters on pharmacogenomics, pharmacoeconomics, and pain management.
Table of Contents
Front Matter
ABOUT
DEDICATION
PREFACE
ACKNOWLEDGMENTS
ABOUT THE AUTHORS
CONTRIBUTORS
REVIEWERS
UNIT I The Foundation
CHAPTER 1: THE ROLE OF THE NURSE PRACTITIONER AS PRESCRIBER

ROLES OF REGISTERED NURSES AND ADVANCED PRACTICE NURSES WHO ARE NOT NURSE PRACTITIONERS
ROLES AND RESPONSIBILITIES OF PHYSICIAN ASSISTANTS
ROLES AND RESPONSIBILITIES OF NURSE PRACTITIONERS
ADVANCED KNOWLEDGE
BENEFITS OF A NURSE PRACTITIONER AS PRESCRIBER
CLINICAL JUDGMENT IN PRESCRIBING
PRESCRIPTION WRITING
OTHER ISSUES TO CONSIDER WHEN WRITING A PRESCRIPTION
COLLABORATION WITH OTHER PROVIDERS
CURRENT ISSUES AND TRENDS IN HEALTH CARE AND THEIR EFFECT ON PRESCRIPTIVE AUTHORITY
REFERENCES

CHAPTER 2: REVIEW OF BASIC PRINCIPLES OF PHARMACOLOGY

PHARMACODYNAMICS
PHARMACOKINETICS
REFERENCES

CHAPTER 3: ADVERSE DRUG REACTIONS

CATEGORIES OF ADVERSE DRUG REACTIONS
CONCLUSION
REFERENCE

CHAPTER 4: PHARMACOGENOMICS

GENETICS REVISITED
GENETIC DIFFERENCES OF DRUG METABOLISM
CYTOCHROME P450
P-GLYCOPROTEIN
DRUG METABOLISM AND PHARMACOGENOMICS
SUMMARY
REFERENCES

CHAPTER 5: PHARMACOECONOMICS

PHARMACOECONOMIC STUDIES
THE IMPACT OF GENERIC DRUGS ON THE DRUG THERAPY
CONCLUSION
REFERENCES

CHAPTER 6: RATIONAL DRUG SELECTION

YOUR PERSONAL FORMULARY
THE PROCESS OF RATIONAL TREATMENT
INDIVIDUALIZING DRUG THERAPY
REFERENCES

CHAPTER 7: LEGAL AND PROFESSIONAL ISSUES IN PRESCRIBING

THE PRESCRIPTION
FEDERAL DRUG LEGISLATION
DRUG-SEEKING BEHAVIOR
STATE PRACTICE ACTS
THE NEW DRUG APPROVAL PROCESS
OFFICIAL LABELING
INFORMED CONSENT
REFERENCES

CHAPTER 8: FOSTERING ADHERENCE AND POSITIVE OUTCOMES

OVERVIEW OF NONADHERENCE
ADVERSE DRUG REACTIONS
ASYMPTOMATIC CONDITIONS
CHRONIC CONDITIONS
KNOWLEDGE DEFICIT AND PATIENT PERCEPTION
COGNITIVE IMPAIRMENT AND PSYCHIATRIC ILLNESS
CAREGIVER'S ROLES
COMPLEXITY OF DRUG REGIMEN AND POLYPHARMACY
FINANCIAL IMPACTS
COMMUNICATION DIFFICULTIES
COMMUNICATION BETWEEN PROVIDERS
PATIENT'S RESPONSIBILITIES
MEASURING ADHERENCE
SUMMARY
REFERENCES

CHAPTER 9: CULTURAL AND ETHNIC INFLUENCES IN PHARMACOTHERAPEUTICS

AFRICAN AMERICANS
AMERICAN INDIAN–ALASKA NATIVE GROUPS
ASIAN AMERICANS/PACIFIC ISLANDERS
HISPANICS/MEXICANS
NONHISPANIC WHITES
SUMMARY
REFERENCES

CHAPTER 10: NUTRITION AND DRUG THERAPY

NUTRIENT-DRUG INTERACTIONS
NUTRITIONAL SUPPLEMENTATION
REFERENCES
RESOURCES

CHAPTER 11: HERBAL THERAPY AND NUTRITIONAL SUPPLEMENTS

OVERVIEW OF HERBAL MEDICINE
DEFINITIONS
HERBAL SAFETY
COMMON HERBS USED FOR MEDICINE
HERBAL PREPARATIONS
CONSIDERATIONS FOR THE ADVANCED PRACTICE NURSE PRESCRIBER
REFERENCES

CHAPTER 12: INFORMATION TECHNOLOGY AND PHARMACOTHERAPEUTICS

THE COMPUTER
THE INTERNET
TELEHEALTH
THE FUTURE IN INFORMATION TECHNOLOGY
CONCLUSION
REFERENCES

CHAPTER 13: OVER-THE-COUNTER MEDICATIONS

NONPRESCRIPTION DRUG USE
ANALGESICS AND ANTIPYRETICS
ANTIHISTAMINES AND DECONGESTANTS
ANTACIDS AND HISTAMINE 2 ANTAGONISTS
LAXATIVES
ANTIDIARRHEAL PRODUCTS
ANTIFUNGAL PREPARATIONS
SLEEP AIDS
SUMMARY
REFERENCES
UNIT II Pharmacotherapeutics with Single Drugs
CHAPTER 14: DRUGS AFFECTING THE AUTONOMIC NERVOUS SYSTEM

ADRENERGIC AGONISTS
ALPHA2 AGONISTS: CENTRAL
ADRENERGIC ANTAGONISTS
ALPHA1 ANTAGONISTS
BETA ADRENERGIC ANTAGONISTS (BLOCKERS)
COMBINED ALPHA AND BETA ADRENERGIC ANTAGONISTS
CHOLINERGIC AGONISTS
MUSCARINIC AGONISTS
CHOLINESTERASE INHIBITORS
NICOTINE
CHOLINERGIC BLOCKERS
REFERENCES

CHAPTER 15: DRUGS AFFECTING THE CENTRAL NERVOUS SYSTEM

ANOREXIANTS
ANTICONVULSANTS
ANTIDEPRESSANTS
ANTIPSYCHOTICS
DOPAMINERGICS
ANXIOLYTICS (ANTIANXIETY) AND HYPNOTICS
MOOD STABILIZERS
OPIOID ANALGESICS AND THEIR ANTAGONISTS
STIMULANTS
REFERENCES

CHAPTER 16: DRUGS AFFECTING THE CARDIOVASCULAR AND RENAL SYSTEMS

ANGIOTENSIN-CONVERTING ENZYME INHIBITORS AND ANGIOTENSIN II RECEPTOR BLOCKERS
CALCIUM CHANNEL BLOCKERS
CARDIAC GLYCOSIDES
ANTIARRHYTHMICS
NITRATES
PERIPHERAL VASODILATORS
DIURETICS
REFERENCES

CHAPTER 17: DRUGS AFFECTING THE RESPIRATORY SYSTEM

BRONCHODILATORS
RESPIRATORY INHALANTS
COUGH PREPARATIONS
REFERENCES

CHAPTER 18: DRUGS AFFECTING THE HEMATOPOIETIC SYSTEM

ANTICOAGULANTS AND ANTIPLATELETS
HEMATOPOIETIC GROWTH FACTORS
IRON PREPARATIONS
FOLIC ACID
VITAMIN B12
REFERENCES

CHAPTER 19: DRUGS AFFECTING THE IMMUNE SYSTEM

IMMUNIZATIONS
ATTENUATED VACCINES
INACTIVATED VACCINES
IMMUNE GLOBULIN SERUMS
DIAGNOSTIC BIOLOGICALS
IMMUNOMODULATORS
REFERENCES

CHAPTER 20: DRUGS AFFECTING THE GASTROINTESTINAL SYSTEM

ANTACIDS
ANTIDIARRHEALS
CYTOPROTECTIVE AGENTS
ANTIEMETICS
EMETICS
HISTAMINE2 BLOCKERS
PROKINETICS
PROTON PUMP INHIBITORS
LAXATIVES
REFERENCES

CHAPTER 21: DRUGS AFFECTING THE ENDOCRINE SYSTEM

BIOPHOSPHONATES
HYPOTHALAMIC AND PITUITARY HORMONES
EXOCRINE PANCREATIC ENZYMES
ENDOCRINE PANCREATIC HORMONES (INSULIN)
ORAL DIABETIC AGENTS
SULFONYLUREAS
BIGUANIDES
ALPHA-GLUCOSIDASE INHIBITORS
THIAZOLIDINEDIONES
MEGLITINIDES
GLUCAGON
THYROID AGENTS
ANTITHYROID AGENTS
REFERENCES

CHAPTER 22: DRUGS AFFECTING THE REPRODUCTIVE SYSTEM

ANDROGENS AND ANTIANDROGENS
ESTROGENS AND ANTIESTROGENS
PROGESTERONES AND PROGESTERONE ANTAGONISTS
OTHER DRUGS AFFECTING THE REPRODUCTIVE SYSTEM
REFERENCES

CHAPTER 23: DRUGS AFFECTING THE INTEGUMENTARY SYSTEM

ANTI-INFECTIVES
AGENTS USED TO TREAT ACNE
TOPICAL CORTICOSTEROIDS
TOPICAL IMMUNOMODULATORS
TOPICAL ANTIPSORIASIS AGENTS
TOPICAL ANTISEBORRHEIC MEDICATIONS
TOPICAL ANTIHISTAMINES AND ANTIPRURITICS
MOISTURIZERS, EMOLLIENTS, AND LUBRICANTS
AGENTS USED IN THE TREATMENT OF BURNS
SCABICIDES AND PEDICULICIDES
CAUTERIZING AND DESTRUCTIVE AGENTS
KERATOLYTICS
TOPICAL ANESTHETICS
MINOXIDIL
MISCELLANEOUS TOPICAL MEDICATIONS
REFERENCES

CHAPTER 24: DRUGS USED IN TREATING INFECTIOUS DISEASES

ANTIBIOTICS: BETA-LACTAMS
CEPHALOSPORINS
FLUOROQUINOLONES
LINCOSAMIDES
MACROLIDES, AZALIDES, AND KETOLIDES
OXALODINONES
SULFONAMIDES, TRIMETHOPRIM, AND NITROFURANTOIN
TETRACYCLINES
VANCOMYCIN
ANTIMYCOBACTERIALS
ANTIVIRALS
NUCLEOSIDE ANALOGUES
OTHER ANTIVIRALS FOR INFLUENZA
SYSTEMIC AZOLES AND OTHER ANTIFUNGALS
ANTHELMINTHICS
METRONIDAZOLE AND NITAZOXANIDE
REFERENCES

CHAPTER 25: DRUGS USED IN TREATING INFLAMMATORY PROCESSES

ANTIGOUT AND URICOSURIC AGENTS
CORTICOSTEROIDS
NONSTEROIDAL ANTI- INFLAMMATORY DRUGS
ASPIRIN AND NONACETYLATED SALICYLATES
REFERENCES

CHAPTER 26: DRUGS USED IN TREATING EYE AND EAR DISORDERS

DRUGS USED IN TREATING EYE DISORDERS
DRUGS USED IN TREATING EAR DISORDERS
REFERENCES
UNIT III Pharmacotherapeutics With Multiple Drugs
CHAPTER 27: ANEMIA

PATHOPHYSIOLOGY
GOALS OF TREATMENT
RATIONAL DRUG SELECTION
REFERENCES

CHAPTER 28: CHRONIC STABLE ANGINA AND LOW-RISK UNSTABLE ANGINA

PATHOPHYSIOLOGY
PHARMACODYNAMICS
GOALS OF TREATMENT
RATIONAL DRUG SELECTION
MONITORING
OUTCOME EVALUATION
PATIENT EDUCATION
REFERENCES

CHAPTER 29: ANXIETY AND DEPRESSION

PATHOPHYSIOLOGY
PHARMACODYNAMICS
GOALS OF TREATMENT
RATIONAL DRUG SELECTION
MONITORING
OUTCOME EVALUATION
PATIENT EDUCATION
CONCLUSIONS
REFERENCES

CHAPTER 30: ASTHMA AND CHRONIC OBSTRUCTIVE PULMONARY DISEASE

ASTHMA
CHRONIC OBSTRUCTIVE PULMONARY DISEASE
REFERENCES

CHAPTER 31: CONTRACEPTION

PHYSIOLOGY OF THE NORMAL MENSTRUAL CYCLE
PHARMACODYNAMICS
GOALS OF TREATMENT
RATIONAL DRUG SELECTION
MONITORING
OUTCOME EVALUATION
REFERENCES

CHAPTER 32: DERMATOLOGIC CONDITIONS

DERMATITIS
PSORIASIS
ACNE AND ACNE ROSACEA
SKIN INFECTIONS
SKIN INFESTATIONS
ALOPECIA ANDROGENETICA (MALE PATTERN BALDNESS)
REFERENCES

CHAPTER 33: DIABETES MELLITUS

PATHOPHYSIOLOGY
PHARMACODYNAMICS
GOALS OF TREATMENT
RATIONAL DRUG SELECTION
MONITORING
OUTCOME EVALUATION
PATIENT EDUCATION
REFERENCES

CHAPTER 34: GASTROESOPHAGEAL REFLUX AND PEPTIC ULCER DISEASE

GASTROESOPHAGEAL REFLUX DISEASE
PEPTIC ULCER DISEASE
REFERENCES

CHAPTER 35: HEADACHES

MIGRAINE
TENSION-TYPE HEADACHES
CHRONIC DAILY HEADACHES
CLUSTER HEADACHES
DRUG-REBOUND HEADACHES
REFERENCES

CHAPTER 36: HEART FAILURE

PATHOPHYSIOLOGY
PHARMACODYNAMICS
GOALS OF TREATMENT
RATIONAL DRUG SELECTION
MONITORING
OUTCOME EVALUATION
PATIENT EDUCATION
REFERENCES

CHAPTER 37: HUMAN IMMUNODEFICIENCY VIRUS DISEASE AND ACQUIRED IMMUNODEFICIENCY SYNDROME

PATHOPHYSIOLOGY
GOALS OF TREATMENT
RATIONAL DRUG SELECTION
MONITORING
OUTCOME EVALUATION
PATIENT EDUCATION
REFERENCES

CHAPTER 38: HORMONE REPLACEMENT THERAPY AND OSTEOPOROSIS

HORMONE REPLACEMENT THERAPY
OSTEOPOROSIS
REFERENCES

CHAPTER 39: HYPERLIPIDEMIA

PATHOPHYSIOLOGY
GOALS OF TREATMENT
RATIONAL DRUG SELECTION
MONITORING
OUTCOME EVALUATION
PATIENT EDUCATION
REFERENCES

CHAPTER 40: HYPERTENSION

PATHOPHYSIOLOGY
PHARMACODYNAMICS
GOALS OF TREATMENT
RATIONAL DRUG SELECTION
MONITORING
OUTCOME EVALUATION
PATIENT EDUCATION
REFERENCES

CHAPTER 41: HYPERTHYROIDISM AND HYPOTHYROIDISM

THYROID HORMONE SYNTHESIS
THYROID FUNCTION TESTS
SCREENING
HYPERTHYROIDISM
SUBCLINICAL HYPERTHYROIDISM
HYPOTHYROIDISM
SUBCLINICAL HYPOTHYROIDISM
REFERENCES

CHAPTER 42: PAIN MANAGEMENT: ACUTE AND CHRONIC PAIN

OVERVIEW OF PAIN CONCEPTS
ACUTE PAIN
CHRONIC PAIN
REFERENCES

CHAPTER 43: PNEUMONIA

ADULT PATIENTS WITH PNEUMONIA
PEDIATRIC PATIENTS WITH PNEUMONIA
REFERENCES

CHAPTER 44: SMOKING CESSATION

PATHOPHYSIOLOGY
GOALS OF TREATMENT
RATIONAL DRUG SELECTION
MONITORING
OUTCOME EVALUATION
PATIENT EDUCATION
REFERENCES

CHAPTER 45: SEXUALLY TRANSMITTED DISEASES AND VAGINITIS

SEXUALLY TRANSMITTED DISEASES
VAGINITIS
REFERENCES

CHAPTER 46: TUBERCULOSIS

PATHOPHYSIOLOGY
GOALS OF TREATMENT
RATIONAL DRUG SELECTION
MONITORING
OUTCOME EVALUATION
PATIENT EDUCATION
PREVENTION OF TUBERCULOSIS
REFERENCES

CHAPTER 47: UPPER RESPIRATORY INFECTIONS, OTITIS MEDIA, AND OTITIS EXTERNA

VIRAL UPPER RESPIRATORY INFECTION
SINUSITIS
OTITIS MEDIA
OTITIS EXTERNA
REFERENCES

CHAPTER 48: URINARY TRACT INFECTIONS

PATHOPHYSIOLOGY
PHARMACODYNAMICS
GOALS OF TREATMENT
RATIONAL DRUG SELECTION
MONITORING
OUTCOME EVALUATION
PATIENT EDUCATION
REFERENCES
UNIT IV Drug Therapy For Special Populations
CHAPTER 49: WOMEN AS PATIENTS

PHARMACOKINETICS AND PHARMACODYNAMICS IN WOMEN
FACTORS THAT INFLUENCE MEDICATION ADMINISTRATION
FACTORS THAT INFLUENCE POSITIVE OUTCOMES
COMMON PROBLEMS THAT REQUIRE MEDICATIONS
HEALTH PROMOTION, DISEASE PREVENTION, AND SCREENING
GAY AND LESBIAN HEALTH
REFERENCES

CHAPTER 50: PEDIATRIC PATIENTS

HISTORICAL PERSPECTIVE ON PEDIATRIC PRESCRIBING
PHARMACOKINETIC AND PHARMACODYNAMIC DIFFERENCES IN CHILDREN
DEVELOPMENTAL ASPECTS OF PEDIATRIC MEDICATION ADMINISTRATION
FACTORS THAT INFLUENCE POSITIVE OUTCOMES
REFERENCES

CHAPTER 51: GERIATRIC PATIENTS

GENERAL PRINCIPLES FOR PRESCRIBING FOR OLDER ADULTS
PHARMACOKINETICS CHANGES
PHARMACODYNAMIC CHANGES
PHARMACOTHERAPEUTICS
COMMON PHARMACOLOGICAL ISSUES FOR OLDER ADULTS
FACTORS INFLUENCING POSITIVE OUTCOMES OR ADHERENCE
PHYSICAL CHANGES ASSOCIATED WITH AGING
COMMON OTHER PROBLEMS AND CONCERNS
REFERENCES

CHAPTER 52: CHRONIC ILLNESS AND LONG-TERM CARE

CHRONIC ILLNESS AND ADHERENCE
CHANGES IN THE ADVANCED PRACTICE PRESCRIBER'S ROLE IN CHRONIC ILLNESS
CHRONIC ILLNESS AND MEDICATION ADHERENCE: DISEASE-SPECIFIC EXAMPLES
MEDICATION ADHERENCE
SPECIAL CONSIDERATIONS IN PRESCRIBING FOR PATIENTS IN LONG-TERM CARE FACILITIES
REFERENCES

CHAPTER 53: DRUG THERAPY AT THE END OF LIFE

GENERAL PRINCIPLES FOR PRESCRIBING AT THE END OF LIFE
PHYSIOLOGICAL CHANGES AND ACCOMPANYING PHARMACOLOGICAL CHANGES AS DEATH APPROACHES
COGNITIVE AND PSYCHOLOGICAL CHANGES
COMMON SYMPTOMS THAT CAN BE TREATED WITH DRUGS
END-OF-LIFE DECISIONS
REFERENCES
Topics within this title:
Alopecia
Anemia
Asthma
Atrophy
Blood pressure
Conjunctivitis
Cough
Dermatitis
Diphtheria
duration
Dyspnea
Eczema
Embolism
Encephalitis
Fever
Folic Acid Deficiency
Gastroesophageal Reflux
Hepatitis
Hepatitis A
Hepatitis B
Hepatitis B virus
HIV
Hypertension
Immune system
Influenza
Measles
Mumps
Osteoporosis
Otitis
Otitis Externa
Otitis Media
Pain
Peptic Ulcer
Pertussis
Pneumonia
Psoriasis
Pulmonary Disease
Pulmonary Embolism
Rabies
Rosacea
Rotavirus
Rubella
Sexually Transmitted Diseases
Shock
Signs and Symptoms
Sinusitis
Syndrome
Tetanus
Thrombocytopenia
Thrombosis
Ulcer
Urinary Tract Infections
Vaginitis
Virus
Yellow Fever