BATES' POCKET GUIDE TO PHYSICAL EXAMINATION AND HISTORY TAKING
This title has been archived.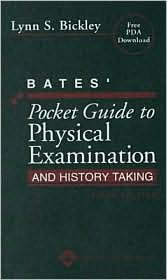 Table of Contents Available
This title has been archived.
Author: Lynn Bickley, MD, Peter Szilagyi, MD, MPH
Affiliation: Texas Tech University, School of Medicine, Lubbock, TX
Publisher: Lippincott Williams & Wilkins
Publication Date: 2007
ISBN 10: 0781793483
ISBN 13: 9780781793483
eISBN: 9781469865317
Edition: 5th
Description:
This concise pocket-sized guide presents the classic Bates approach to physical examination and history taking in a quick-reference outline format. The book features a beautiful full-color design with over 500 drawings and photographs and an easy-to-follow two-column format with examination techniques on the left and abnormalities and interpretations on the right. Highlights of this edition include greater emphasis on patient communication and interview techniques, a new chapter on the older adult, and new drawings and photographs of abnormalities. A bound-in CD-ROM contains a free PDA download with outlines of examination procedures and techniques.