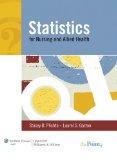 Author: Stacey Plichta, ScD, Laurel Garzon, PhD, PNP
Affiliation: Hunter College, City University of New York, NY
Publisher: Lippincott Williams & Wilkins
Publication Date: 2009
ISBN 10: 0781754593
ISBN 13: 9780781754590
eISBN: 9781469866420
Edition: 1st

Description:
This introductory textbook explores the role of research in health care and focuses in particular on the importance of organizing and describing research data using basic statistics. The goal of the text is to teach students how to analyze data and present the results of evidence-based data analysis. Based on the commonly-used SPSS software, a comprehensive range of statistical techniques—both parametric and non-parametric—are presented and explained. Examples are given from nursing, health administration, and health professions, followed by an opportunity for students to immediately practice the technique.
Related Titles