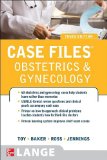 Table of Contents Available
This title has been archived.
Author: Eugene Toy, MD, Benton Baker, III, MD, Patti Ross, MD, John Jennings, MD
Affiliation: Methodist Hospital, Houston & University of Texas Medical School; Houston, TX
Publisher: McGraw-Hill
Publication Date: 2009
ISBN 10: 0071605800
ISBN 13: 9780071605809
Edition: 3rd
Description:
60 high-yield cases in Obstetrics and Gynecology help you to excel in the clerkship and improve your shelf-exam score You need exposure to high-yield cases to excel on the Obstetrics and Gynecology clerkship and the shelf-exam. Case Files: Obstetrics and Gynecology presents 60 real-life cases that illustrate essential concepts in Obstetrics and Gynecology. Each case includes a complete discussion, clinical pearls, references, definitions of key terms, and USMLE-style review questions. With this system, you'll learn in the context of real patients, rather than merely memorize facts.