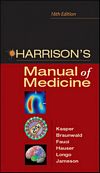 Author: Dennis Kasper, MD, Eugene Braunwald, MD, Anthony Fauci, MD, Stephen Hauser, MD, Dan Longo, MD, J.Larry Jameson, MD, PhD
Affiliation: Harvard Medical School, Boston MA
Publisher: McGraw-Hill
Publication Date: 2005
ISBN 10: 0071444416
ISBN 13: 9780071444415
Edition: 1st

Description:
The authority of Harrison's at the point of care! Covering the full scope of internal medicine, the new edition of this mini-textbook is thoroughly revised to reflect new content areas and quicker retrieval of clinical information. The manual continues to focus on diagnosis and therapy with an emphasis on patient care. Features a new section on Care of the Hospitalized Patient, with a new chapter on Procedures in Internal Medicine as well as a section on patient admittance orders.
Related Titles